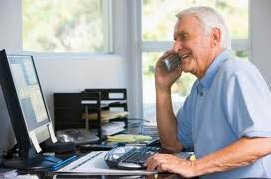 Just because your aging doesn't mean your not capable of being a valuable member to a team in the workplace. More employers than ever before are seeing the benefits of hiring older, wiser, more experienced employees with a stronger work ethic than the spring chickens popping out every day. Fewer boomers are retiring than the generations before them as they drive to remain on the pulse of America and leave aging for the weary.
You know you want a new job, either to slow down from a lifelong career, drive towards success, or simply to find the calling you never had time for- so now what? There are a plethora of resources available online to help point you in the right direction, and you'll also be happy to know you have to be considered under the Age Discrimination in Employment Act created to protect the rights of Seniors seeking employment. So what are you waiting for, browse these free guides, fill out some applications and be well on your way to a new job as a Senior Citizen.
USA.gov Employment Publications - Find guides for obtaining a job, tips for interviewing and information about rights in the workplace.
AARP Age Discrimination Facts - Get precise information you can trust on the Age Discrimination in Employment Act and information on losing and gaining employment.
AARP Worksearch - If you are a Senior that wants to enter the workforce or find a new job, this free tool can help you assess your skills, explore the demands of different fields, and find that job your looking for.