Free Tax Preparation For Seniors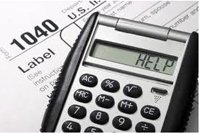 You might be surprised to find out that their is a government program in place specifically to assist seniors with tax preparation. Partnered with AARP, the TCE (Tax Counseling for the Elderly) program provides assistance to seniors who are in the low and middle-income brackets. The program is also supported by grants from the IRS.
So what can they help you with? The volunteers can help you file all the various types of Form 1040, as well as schedule A, B and D.
Find help from a tax volunteer and additional resource information from the following sources:
Tax Counseling for the Elderly