Free Phones For Senior Citizens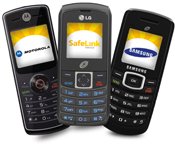 Having the security of knowing that help is just a phone call away is a luxury out of grasp to seniors on a fixed-income, well-fare, victims of the recession and for other reasons outside of their control. But there is hope for seniors citizens that need a free phone- be it a free cellphone or free home telephone. Here we review the best options for getting a free phone for senior citizens:
SafeLink Wireless - This is probably the most popular way to get a free cell phone for senior citizens. If you are on Medicaid, Food Stamps or other similar government programs then you will probably qualify for a free plan from SafeLink. Your income must be verified to qualify however you can receive a free cell phone and up to 250 free minutes each month if you qualify. If this sounds like the best way for you, as a senior citizen, to get a free cellphone, then visit SafeLink Wireless and see if you qualify.


Lifeline Across America - The goal of Lifeline Across America is to offer information and resources for the Lifeline and Link Up programs to provide monthly discounts off phone service for low-income seniors who qualify. If you can afford a phone line but need some help paying, then visit Lifeline Across America and see if their programs are the kind of assistance you need to get a free or low-cost telephone.


911 Emergency Call Phones - Did you know that every cellphone manufactured after 1998 is required to place free, unlimited calls to 911 with or without service? That's right, any phone that has a charge, regardless of if it is connected to cellular service from a provider, can be used to place an emergency call to 911. Just think of the extra security some seniors would feel knowing that they could at least call 911 from anywhere at anytime. That's why there are many city, county and state programs to collect old cellphones and donate them to provide free phones for seniors. Look for local organizations in your area that donate phones, look in thrift shops for nearly free ones, or even use this online listing to find a organization offering free 911 phones for senior citizens near you.
---
Free $10 Gift Card Plus 25% Off!
Receive a free $10 gift card plus 25% cash back at thousands of your favorite online retailers when you sign up for Ebates for free! There are no points to redeem, no forms to mail in, and no fees - simply shop and earn cash back!
---